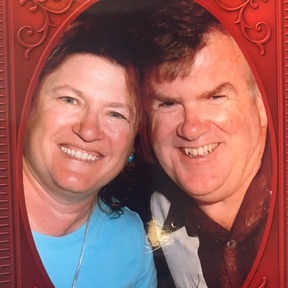 Learn about how this Thousand Oaks car collector is putting her fleet to work! Since joining Vinty 2 years ago, Sandra did about 15 rentals with about $5,000 in profit.
This month, we catch up with Sandra Wilkinson from Thousand Oaks, CA. Sandra is a car collector with a unique collection spanning many different eras and types of vehicles with her most popular vehicles commonly rented for wedding & commercial photoshoots.
Sandra's Garage
Here are two of Sandra's most popular vehicles on Vinty. Follow the link below to view Sandra's full selection at 9 vehicles.
Interview
How did your passion for cars get started?
In 1961, I was 4 years old and my earliest memory is riding in my uncle's 1936 Dodge. He lived "out bush" in Australia, and that lovely old lady took the corrugations and dirt roads with ease . The feeling of space, high back seat and pure adventure started me on my life long love of these cars. By 1971, her axle was broken and to my distress she was allowed to rot and deteriorated in his yard, windows down, magpies tearing at the upholstery. I loved my uncle but that desecration forever put a barrier between us. In 1975, I bought my first car , I was 18 and the old beauty that took my eye was a 1946 Oldsmobile. How I loved her! But, as a stick shift, three on the column, that old clutch got the better of me and I could never drive her. Married in 1984, my choice for my wedding limousine was a 1929 Model A sedan. It was a wonderful day, made sublime by driving in that sexy old darling. Life continued, and it wasn't until my 57th birthday that my hubby bought me a 1957 Ford Fairlane Skyliner. Now I own 6 other vintage cars, ranging from a 1936 Dodge to a 1975 Cadillac El Dorado. They fill my heart with joy and I've got my eye on another even older beauty, maybe an obsession or hoarding tendencies coming out? No matter!
How long have you been with Vinty? Estimated income from rentals?
Vinty contacted me about 2 years ago to use my cars through their company. It's a win win for us, since then we have driven brides, toured Hollywood, wine tasted in the Ojai Valley and been in parades, including the Pasadena crazy parade and the SriLanka day parade twice. I even drove the ambassador and his wife in the parade!

We stick with Vinty as they are a proven success story for us and the relationship with the company is much appreciated. I trust them and truly wish them every great success with their business.


Since joining Vinty 2 years ago, Sandra did about 15 rentals with about $5,000 in profit.
What do you enjoy most about being able to rent your classic cars through Vinty?
The best part of using our cars through Vinty is the people we meet, who also love these cars, and it's a thrill driving a vintage car newbie and seeing them catch the fire of classics for the first time..
What was your most memorable rental?
We have been in 3 photo shoots, one for a swimwear company, another for Lyft and recently in a movie set in the late 40's. I haven't seen the end products as yet but it will be fun when I do.
What advice would you give to other car collectors?
My best advice to other vintage car owners is to sign up with Vinty, you retain total control on what you want to do with your cars, we personally do not allow renters to drive them, but you can, you set your hourly or daily fees. Vinty's take is reasonable and fair. They are a trustworthy organisation. I really am very comfortable dealing with them.
If you would like to share your cars and their stories, get in touch with us to be featured in the next Owner Spotlight!