American car rental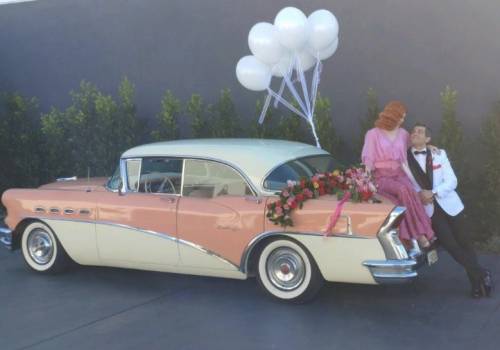 American Car Rental For Weddings, Parties and Events
American car rental! Arrive in style by renting one of our classic American cars with a private chauffeur to escort you to your wedding, party or other event. We have classic American cars and limousine rental that'll lend a stylish and personal touch to the event. American cars are oozing with presence and personality, and many of the vintage models give that old American party feel to the event with the spacious leather interiors and touches of vinyl and chrome.
Rock 'n' Roll American Cars For Weddings And Parties
It's very popular to rent classic American cars to sample the American dream. We recommend a lovely big Mercury Park Lane Cruiser - a rare vintage model with sumptuous leather seats and plenty of room for everyone. A classic vintage limousine that's tons of fun at your wedding or party. Dodge Coronet and other cheerful 50's models are also perfectly suited for chauffeured wedding drives.
For a wedding celebration, we recommend in particular a Chevrolet Deluxe - an authentic 50's classic with seating for five passengers so you can arrive in true rock 'n' roll style with several friends. The party begins in the car with great rock 'n' roll music alongside a nice cold beer or glass of sparkling wine.
American Cars For Your Photoshoot, Film or Music Video
If you are looking to add that special touch to your photoshoot then a classic car will be the perfect addition.
Whether you want some glamour with a classic Ford Mustang or something edgier with a Pontiac Firebird you can be sure that our classics will add this to your production.
With such a stunning collection of American cars, you can be sure to find something to fit your theme at Vinty.