Pre-war and vintage car rental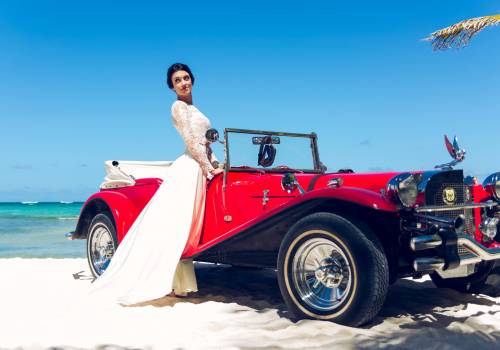 Pre-war and vintage car rental is becoming increasingly common for weddings, parties and other great events. And for good reason. Classic wedding cars create a unique atmosphere that is guaranteed to make the event unforgettable.
Pre-war and vintage car rental for weddings
Nothing could be more romantic than a traditional wedding car with a personal chauffeur to transport you to and from your big event. Pre-war and vintage car rental for weddings, parties and other events is for everyone. Classic cars provide an outstanding spectacle that is guaranteed to turn heads whatever the occasion. The opulent design, amazing decor, vintage accessories and proud engine sounds all make for a unique atmosphere. But most of all, it's just such an exciting and unique experience to sit in a plush and dignified car from a bygone era. Choose from a dashing Rolls Royce limousine or a great Ford A from the 1920s. These cars are always a winner on summer wedding drives. You can also browse our vintage bus rental collection, ideal for larger groups!
Classic and vintage cars create sublime moments and romantic pictures
The journey to the reception is the perfect time to take romantic pictures with your classic car. Its stylish decor and unique design detail will serve as a picturesque and memorable background for your photo album. Vintage cars are always popular with wedding photographers who will be eager to capture photogenic moments of you both inside and outside your dream vehicle.